---

About Don Meyer

---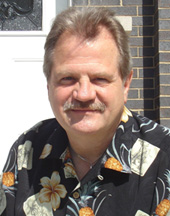 An early writing career got started back in Chicago, with the creation of a Vietnam Memoir, which had been pounded out on an old Royal black manual typewriter and a very rough draft of a novel, on a Brother portable electric correcting typewriter (with two rewrites typed start to finish, as well). However, the years slipped by and it wasn't until some twenty years later that these 20lb bond, slightly yellow typewritten pages were retrieved from their respective boxes and "keyed" into a computer if for no other reason than to have a copy.
The Vietnam Memoir celebrated its tenth anniversary with a special ereader edition and that novel actually had two lives, an early run that was then replaced with an updated, restructured story that became the basis for the trilogy. Two more works followed that "new" book to complete that trilogy. In the middle of those two events another novel was created.
Fifteen years, seven books, a memoir, a novel, the trilogy and two more novels, the current project, several presentations, a couple of dissertations, a published article and a tribute to complete the package, Don has done it all. In addition, along the way Don spent two years as an agent (actually the purveyor of the slush pile), did a summer internship at a major chain bookstore and spoke about his rediscovered passion to anyone who would let him or would listen (a passion his late wife called his nice little hobby). These days Don is content to just write and sit quietly, but a simple nudge and he'll gladly tell what he knows, or thinks he knows.